Warehousing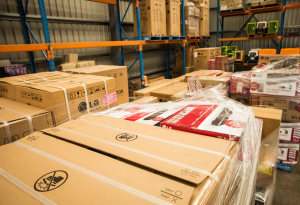 Airside Logistics offers a complete range of delivery and warehousing services for off site or overflow storage needs, including pick/pack or third party logistics. We can tailor a solution that is perfect for your business requirements.
Warehousing is available for pallet items only, on a casual basis, at the new Airside Logistics Warehouse Facility and Administration Centre at Mount Isa Airport.
Warehousing Charges
$15.00 per pallet acceptance inwards
$20.00 per pallet delivery outwards
$25.00 per pallet storage per week
$25.00 pallet for pallet wrapping
$110.00 per week minimum charge
Airside Logistics also offers long-term warehousing at a negotiated rate.
We do not accept any dangerous goods for storage.